Home > 07 Sep 2018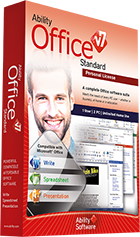 Ability Office 7 Standard
Includes a 1-activation 1-PC licence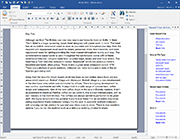 Ability Office is a powerful Office-compatible productivity suite, including a word processor, spreadsheet, presentation tool and photo manager.
The suite's editor, Ability Write, looks and feels a lot like Microsoft Word. It reads and writes the same .DOC and .DOCX files, supports all the formatting options you need, includes vector drawing and autoshape tools, has indexing, TOC, spell and grammar checking, and can optionally export your finished documents as PDF.
Ability Spreadsheet handles your calculaion needs with over 250 built-in functions, 25 chart types, pivot tables, autoshapes and more. An Office-like ribbon makes it easy to find the options you need, and again it can read and write Excel files, as well as exporting to PDF.
It's the same story with Ability Presentation, which enables you to read and edit PowerPoint presentations, or create new documents of your own.
Ability Photoalbum is a bonus application, a thumbnail browser for locating, viewing and organising the images on your PC. It's a little more basic, although you do get extra tools to convert images between formats, and present them in HTML albums.
The suite also includes Ability Launcher, a tiny application which adds an icon to your system tray, and allows you to launch any other Ability Office component in a couple of clicks.
This giveaway includes a one PC, one activation licence.
Today's Price:
FREE
Saving
£24.99
(100%)
How To Get Your Serial Code
Login (create an account if you haven't already done so), enter the magazine coupon code you can find in the November 2018 issue of PC Pro, then click the "Get Serial Code" button to receive your code. You can find this again in your account, if you need the code in the future.
Upgrade To Ability Office 7 Professional And Save 50%
We've given you a single activation, one PC licence for Ability Office v7 Standard worth £24.99. The Professional edition offers far more functionality, including Database, which you can use to catalogue data and Photopaint, which is a fully-featured photo editor.
Ability is offering PC Pro readers 50% off all versions of Ability Office. To obtain your 50% discount simply head to the Ability Store.